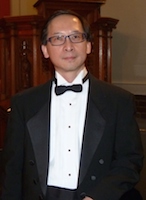 Ron K. M. Cheung
Artistic/Music Director
Ron graduated from University of Toronto with a Masters degree in Choral Conducting and with a Bachelor of Music in Education from McMaster University. An experienced choral singer, he has performed with the Toronto Mendelssohn Youth Choir, the Bach- Elgar Choir, the McMaster University Choir, the 1990 National Youth Choir, and from 1991-1996, he was also a member of the world renowned Toronto Mendelssohn Choir. Ron has also served as the tenor section leader with Westdale United Church Choir in Hamilton, as well as with the Choir of Grace Church on-the-Hill in Toronto.
In 1996 and 2002, Ron attended master classes with the Vancouver Chamber Choir under the direction of Maestro Jon Washburn, at the Annual National Conductor's Symposium. In 1998, Mr. Cheung was selected as a participant in the conducting master class at the Oregon Bach Festival, under the tutelage of Maestro Helmuth Rilling. In 2001, Mr. Cheung attended masterclass with the great English choral conductor, Sir David Willcocks, and once again with Bach's specialist Maestro Helmuth Rilling. In 2011, Ron participated in the conducting workshop with master-teacher Richard Nace at the Ontario Vocal Festival Symposium. In the summer of 2014, Ron directed Chorus Canadiana, a branch of the Yip's Children's Choir (Canada) to Salzburg, Vienna and Prague as part of the Rhapsody! International Choir Festival, with resounding success. And in 2015, the children's choir was only one of three choirs from Canada that were invited to compete in the Golden Gate International Choral Festival.
In addition to Voices, Ron also founded the Healey Willan Singers, which is fast becoming one of the best women's ensembles in Toronto. Ron is also currently the artistic director/conductor of the Yip's Children's Senior and Youth Choir (Canada). Ron has also been employed as conductor of various choirs, including the Toronto Mendelssohn Youth Choir. In addition, Ron has conducted different orchestras and ensembles in performance with his choirs such as the Toronto Symphony Youth Orchestra, Counterpoint Orchestra, the Mississauga Symphony Orchestra, Brass Conspiracy, and other instrumental ensembles. Ron also teaches voice and music theory at the Pro Music Conservatory of Music in Markham.
Visit Ron Cheung's website at
http://www.ronkmcheung.com
.
---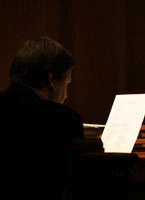 John Stephenson
Accompanist/Organist
Mr. Stephenson is a frequent recitalist in Canada and the Eastern United States. He has performed on local and international radio and television broadcasts as a soloist and as accompanist, and has distinguished himself in regional, national, and international organ competitions.
Mr. Stephenson studied music in Montreal with Patrick Wedd and with John Grew at McGill University, graduating with distinction.
---
Members of VoicesSopranos
Alexandra Anderson
Svitlana Byelkina
Adriane Castellino
Tiffany Jay
Shonagh McVean
Tiffany Phan
Tanya Vachenko
Altos
Betty Bennett
Ellen Bennett
Michelle Garon
Elizabeth MacLean
Irina Minski
Betsy Wimbs
Tenors
Joel Derksen
Nigel Fung
Channing Huang
Peter Mastrangelo
Baritones/Basses
Gordon Chu
Sam Chu
Mark Hamilton
John Riddell
Kevin Wang
Jon Wong
---
Auditions
Interested in joining a choir? We are looking for talented singers!
Voices has a limited number of openings in various sections that need to be filled.
Candidates should have experience in singing choral music and possess good sight-reading skills. For additional information or to set up an appointment to audition, please call Ron Cheung at (416) 519-0528 or email at
voiceschamberchoir@yahoo.ca
.